August 16, 2016 – HAGAR, in partnership with UNICEF launched an extensive suite of resources that include comprehensive tools, and dialogue and training sessions for lawyers in Cambodia to better protect traumatised children in the Cambodian criminal justice system and lessen their stress. With the primary objective of upholding the best interests and rights of the child, the anticipated outcome is to see an improvement in the experience of child victims and witnesses in the justice process and creating a child-friendly justice system in Cambodia.
The launch was received with much anticipation and local experts shared their views on the resources and the project. Many were encouraged by the effort but also expressed the challenges faced and the many shortcomings in the current systems.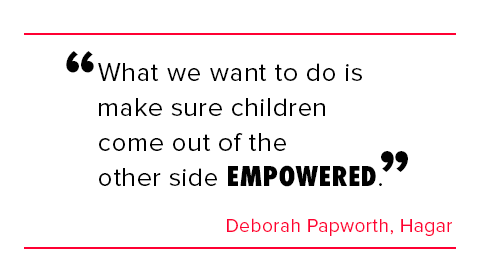 "Children are occasionally transported to trial in the same vehicles or made to wait in the same room as their abuser." Cristina Maza and Bun Sengkong, The Phnom Penh Post
"Ministry of Justice spokesman Chin Malin, however, said the government was making efforts to ensure child protection laws are enforced, but conceded that "loopholes" remained, and that there was sometimes a lack of information or competent officials." Janelle Retka, The Cambodia Daily
"The training materials will also provide tools to help children and their care-givers understand the court process through checklists and steps to protect the child in court." Khan Sophirom, Agence Khampuchea Presse
"The anticipated outcome from this guide is to see a significant step towards improving the experience of child victims and witnesses in the justice process and creating a child-friendly justice system in Cambodia." Bernama
While child protection laws are in place, a lack of enforcement means that these practices are not actually executed due to a variety of reasons such as lack of trained personnel, material resources, technical understanding or even finances. This is a critical component in the Convention on the Rights of the Child where part 1 article 3 states that the best interests of the child shall be a primary consideration in all actions undertaken by courts of law, administrative authorities or legislative bodies. The Convention on the Rights of the Child, to which Cambodia is a State Party, is a key instrument that continually guides efforts to develop and improve the child justice system in Cambodia.
RESOURCES TO SUPPORT CHILDREN IN LEGAL PROCESSES
The resources are targeted at helping the child understand what to expect, how to prepare for the court session, and the rights that they have while in court – such as going to the washroom, requesting the judiciary officer to repeat their question, or simply saying that they do not understand what is being asked of them. The court environment can be extremely frightening for children. They often struggle to understand the court process and cope with the stress of giving evidence.
Booklets to help children understand the court process
| | | |
| --- | --- | --- |
| | | To assist lawyers and child advocates better prepare child victims and witnesses for court, easy-to-use, practical tools have been designed to explain to both children and their care-givers what happens in court. This includes a short child's animation which explains the court process, as well as accompanying booklets specially designed for children and care-givers. |
Bona Goes To Court: English version | Khmer version
Who Will Be In Court?: English version | Khmer version
Materials to help lawyers develop a Court Preparation Programme
Another important group would be the lawyers who represent the children. A well-planned and thorough court preparation programme is critical to minimising the distress that a child can feel while participating in the court process, and can help to transform the court experience into a step in the child's recovery. The Guide includes a set of tools and checklists for lawyers and child advocates for creating a Court Preparation Programme.
English version | Khmer version
Booklet for caregivers to understand the court process
To assist child advocates in preparing child victims and witnesses in court, this booklet has been designed to explain to caregivers what happens in court.
English version | Khmer version
Checklist of steps to prepare the child in court
Findings from the study conducted showed that child-friendly accommodations were not consistently adopted in the courts, which often resulted in children feeling fearful and vulnerable. There are different checklists for lawyers and non-lawyers on steps to be taken to ensure that children are protected at each stage of the justice process to the full extent of the law.
English version | Khmer version
Video for child witness to understand what to expect in court